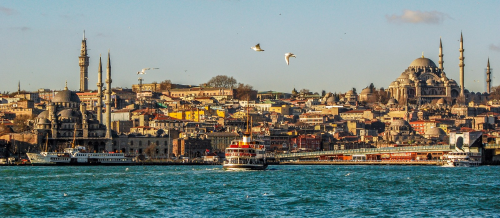 The International Centre for Heat and Mass Transfer is pleased to announce the 9th International Symposium on Advances in Computational Heat Transfer, CHT-24, to take place at Mustafa Kemal Amphitheater, and Classrooms D103, D104 and D105 of School of Foreign Languages at Istanbul Technical University(ITU) Macka Campus, in Besiktas-Istanbul, Turkiye, during May 26 - 30, 2024.
OBJECTIVE
The goal of the symposium is to provide a forum for the exchange of ideas, methods and results in computational heat transfer. Fundamental and applied papers will be welcome.
Topics will include but are not limited to:
· Biological heat transfer

· Boundary layer flow and heat transfer

· Combustion and fire modelling

· Computational methods

· Double diffusive convection

· Energy

· Environmental heat transfer

· Forced convection

· Internal flow and heat transfer

· Inverse problems

· Materials processing and manufacturing

· Micro and nanoscale heat transfer

· Natural convection

· Radiative heat transfer

· Single and multiphase flow and heat transfer

· Solidification and melting

· Sustainability

· Turbulent heat transfer

· Turbulence modelling

· Verification and Validation
SCIENTIFIC PROGRAMME
The scientific programme will consist of invited plenary and keynote lectures presented by internationally recognized researchers, contributed papers presented in oral or poster sessions, and panel discussions. In addition, an Open Forum session will give authors an opportunity to present new work or work in progress, which is not yet ready for review. Presentations on future directions or neglected problems in CHT will be particularly welcome. The G. de Vahl Davis Best Paper Award will be presented to the authors of the paper judged to be the best at the symposium.
REGISTRATION
CHT-24 Symposium will be open to presentation with a full paper and presentation-only contributions. The official language of the conference is English. Participation is open to all persons interested in this conference. Please note that all persons intending to attend CHT-24 must complete the Registration Form and should register. At least one author must be registered by April 26, 2024, for the paper to be included in the Symposium Program and available online on the Symposium website.
The symposium registration fees will be 550 Euros if paid before April 26th, 2024; 600 Euros for advance registration after that date, and 650 Euros on-site. Full-time students will pay 250 Euros, subject to proof of status, before April 26th, 2024; 300 Euros for advance registration after that date and 350 Euros on-site.
The fees for both delegates and students cover participation in all technical sessions, welcome cocktail, symposium proceedings (on a flash disk), book of abstracts, coffee breaks but does not include sight-seeing tours, trips, and airport transfers.
In case of cancellation after the payment, 100 Euros will be deducted from the paid registration fee and the rest will be reimbursed.
The Registration Form for CHT-24 will be available soon.
Some financial support will be available for students and young researchers from the developing countries, and to others with demonstrated financial difficulties. Application should be made via the website. Please check ICHMT Grants page.
The only payment method for this symposium is bank transfer. However, you can make your payment on-site at the registration desk in cash (preferably) or by credit card (debit cards & American Express card are not acceptable. Please use MasterCard or Visa for your payment). Credit Card payment fee is 4%.
For bank transfers, please send a copy of the bank transfer document to ichmt@ichmt.org so that your payment can be traced. If the bank withholds a transfer fee from the total amount, we will ask you to pay the outstanding amount on-site in cash.
Bank Details of Claros Tour for payment in EUROS:
(Claros Tour (Alico Turizm Ltd. Sti.) is the official Travel Agency of ICHMT.
ACCOUNT HOLDER: Alico Turizm Gıda Ins. San. ve Tic. Ltd.Şti.
ADDRESS OF ACCOUNT HOLDER: Ismet Kaptan Mah. Sair Esref Bulv. No 35/1 D 803 Konak/Izmir, TURKEY
BANK: Turkiye Is Bankasi, Yeni Liman Subesi
BANK ADDRESS: Atatürk cad. No: 422, 35220, Alsancak, Izmir, Turkey
ACCOUNT NO: 3427 0443494
SWIFT CODE: ISBKTRIS
IBAN: TR02 0006 4000 0023 4270 4434 94
TRAVEL INFORMATION
The official travel agent for CHT-24 is Claros Tour (claros.com.tr). Hotel reservations and tours at special rates will be offered at the Symposium website.
ICHMT GRANTS
The Executive Committee of ICHMT will be able to offer some financial support to assist scientists and engineers to participate in its symposia. Priority will be given to students and to scientists early in their career from the Developing Countries.
Grants will normally cover the registration fee and not more than 50% of the other costs.

The application form should be downloaded from the following link: Grants Application Form
Then, the application form should be completed and sent as an email attachment no later than four months before the start of the symposium to:

Professor Ilker Tari,
Secretary General, ICHMT
Email: ilker@ichmt.org

Applicants must arrange for a statement to be supplied by a senior officer of their Institution (university, laboratory etc.) to confirm that funds are not available from that institution, or from any other source, to support the complete costs of attendance. This statement should indicate the extent to which funds will be available from such sources. It must be sent separately from the application, by the officer of the Institution. It should be sent by fax or airmail, on institution letterhead, directly to

Professor Ilker Tari,
Secretary General, ICHMT
Mechanical Engineering Department,
Middle East Technical University
06800 Ankara, Turkey.
Fax: +90-312-210 1429

An application cannot be considered if this statement has not been received by the closing date.

Applicants for grants will be informed of the outcome of their applications not later than four months before the start of the symposium.

The grants will be available from the Secretary General or the Symposium Chair at the Symposium, subject to presentation of proof of all costs relating to attendance at the meeting (including copies of all relevant receipts, tickets etc). The grant will not be paid unless full documentation is presented.
For scientific enquiries, contact:
Professor Yogesh Jaluria

Symposium Co-Chair

Department of Mechanical Engineering

Rutgers University

98 Brett Road, Piscataway, NJ 08854, USA

Tel: +1 848 445 3652; +1 848 445 2248

Fax: +1 732 445 3124

e-mail: jaluria@soe.rutgers.edu

Professor Tuba Okutucu-Ozyurt

Symposium Co-Chair

Energy Institute

Istanbul Technical University

Ayazaga, Istanbul, Turkiye

Tel: +90 212 285 3943 Fax: +90 212 285 3884

e-mail: okutucuozyurt@itu.edu.tr
For general enquiries, contact:
Professor İlker Tari
Symposium Co-Chair and ICHMT Secretary-General
Mechanical Engineering Department E-104
Middle East Technical University, Dumlupınar Bulvarı No:1
06800 Ankara / Turkey
Phone: +90 (312) 210 2551
e-mail: ilker@ichmt.org
INTERNATIONAL SCIENTIFIC COMMITTEE
Aki Runchal (USA)

Alain Kassab (USA)

Aleksey Nenarokomov (RUSSIA)

Andrzej J. Nowak (POLAND)

Angela Nieckele (BRAZIL)

Bantwal R. Baliga (CANADA)

Bengt Sunden (SWEDEN)

Božidar Šarler (SLOVENIA)

Carlos J. S. Alves (PORTUGAL)

C. Balaji (INDIA)

Charl G. Jat Du Toit (SOUTH AFRICA)

Cristina Amon (CANADA)

Denis Maillet (FRANCE)

Dimos Poulikakos (SWITZERLAND)

Dominic Groulx (CANADA)

Fabio Bozolli (ITALY)

Gautam Biswas (INDIA)

Gennady Ziskind (ISRAEL)

George Dulikravich (USA)

Gherhardt Ribatski (BRAZIL)

Helcio Orlande (BRAZIL)

Hiroshi Iwai (JAPAN)

Jari Kaipio (NEW ZEALAND)

J. Padet (FRANCE)

Jean-Francois Sacadura (FRANCE)

Jean-Luc Battaglia (FRANCE)

John Chai (UK)

José L. Lage (USA)

Josua Meyer (SOUTH AFRICA)

Kazuya Tatsumi (JAPAN)

L.Q. Wang (HONG KONG)

Leonid Dombrovsky (RUSSIA)

Liliane Barichello (BRAZIL)

Luiz Wrobel (UK)

Masahiko Shibahara (JAPAN)

Mourad Rebay (FRANCE)

M. Pinar Menguc (TURKEY)

Neima Brauner (ISRAEL)

Oronzio Manca (ITALY)

Perumal Nithiarasu (UK)

P. Oosthuizen (CANADA)

Paolo Di Marco (ITALY)

Pedro J. M. Coelho (PORTUGAL)

Peter Stephan (GERMANY)

Philippe Le Masson (FRANCE)

Q. Wang (CHINA)

Renato Cotta (BRAZIL)

Ryszard Bialecki (POLAND)

S. A. Sherif (USA)

S. P. Vanka (USA)

Sadik Kakac (TURKEY)

Sara Rainieri (ITALY)

Sumanta Acharya (USA)

Stavroula Balabani (UK)

Sung Jin Kim (KOREA)

Tatiana Gambaryan-Roisman (GERMANY)

Victoria Timchenko (AUSTRALIA)

Wei Shyy (HONG KONG)

Wilson Chiu (USA)

X. Zhang (CHINA)

Yildiz Bayazitoglu (USA)

Y. Tao (USA)

Ville Kolehmainen (FINLAND)

Z. Guo (USA)

Z. Saghir (CANADA)
SCHEDULE OF DATES
| | |
| --- | --- |
| One page abstract, extended abstract or full paper due (Extended) : | November 28, 2023 |
| Abstract acceptance: | November 29, 2023 |
| Full text of paper due: | January 12, 2024 |
| Paper acceptance subject to amendment: | March 06, 2024 |
| Presentation only abstract due: | April 05, 2024 |
| Final paper due: | April 05, 2024 |
| Presentation only abstract acceptance: | April 19, 2024 |
| Early registration deadline and final payment date for publication in Proceedings: | April 26, 2024 |
PRESENTATION AND PUBLICATION
Papers will be selected for presentation and publication on the basis of a one-page initial abstract or an extended abstract or a full paper (which will be assessed to ensure relevance) followed by a review of the full papers. Presentation-only submissions will be evaluated based on the submitted abstracts without expecting a full paper submission. Proceedings will be published by Begell House Inc. on a flash disk and in the ICHMT Digital Library. Papers of archival quality may be submitted for publication in one or more special issues of the Begell House journal, Computational Thermal Sciences, or in other journals with substantial changes. At least one author needs to be registered by April 26, 2024 for the paper be included in the Symposium Program and published in the Conference Proceedings. Presentations in the Open Forum session will not be included in the Symposium Proceedings.
GENERAL INFORMATION ABOUT ICHMT
The International Centre for Heat and Mass Transfer (ICHMT) is an international, professional, non-governmental, non-profit organization. The general objective of the Centre is to promote and to foster international cooperation in the science of heat and mass transfer and its applications. Its secretariat is located at the Mechanical Engineering Department of Middle East Technical University (METU).
| | | |
| --- | --- | --- |
| | The first meeting of the International Centre for Heat and Mass Transfer (ICHMT) was held in Herceg Novi, Yugoslavia, on September 16, 1968, during the International Seminar on Heat and Mass Transfer in Turbulent Boundary Layers, organized by the Boris Kidric at the Institute of Nuclear Sciences in Belgrade. This meeting was the culmination of activities initiated by a group of leading scientists in the field from different countries. These activities resulted from a long felt need to create an international organization in the fast growing field of heat and mass transfer. Some of the most prominent names in the field who were involved in the founding and creation of the Centre were: E.A. Brun, E.R.G. Eckert, U. Grigull, J.P. Hartnett, T.F. Irvine, Jr., S.S. Kutateladze, A.V. Luikov, W.M. Rohsenow, D.B. Spalding, and M.A. Styrikovich. The active participation and efforts of D. Velickovic, Z. Zaric and N. Afgan from the Serbian Academy of Sciences and the Boris Kidric Institute of Nuclear Sciences in Belgrade made the founding of the Centre possible. | |
| | |
| --- | --- |
| | The leadership and initiatives of Professor Zoran Zaric and later Professor Naim Afgan made the Centre grow and reach maturity over the years and become a well-known organizer of meetings and other activities with high prestige among scientists and researchers in the field of heat and mass transfer. The meetings have served as a means of conveying and transferring scientific knowledge, technical know-how, and cultural values. The Centre's many publications have become among the most sought after collections of scientific literature in the field. |
The Secretariat of the Centre remained in Belgrade for almost 24 years and traditionally organized one seminar and one symposium a year, usually in Dubrovnik, Yugoslavia, until early 1990s when the start of the political turmoil in former Yugoslavia unavoidably hampered the functioning of the Secretariat. The Executive Committee of the Centre started looking for a new home for the Secretariat of the Centre.
| | |
| --- | --- |
| | Professor Sadik Kakac, a member of the Scientific Council representing Turkey, with the encouragement of Professor Yasuo Mori, the President of ICHMT, and Professor Franz Mayinger, the Chairman of the Executive Committee, contacted Professor Kemal Guruz, Head of TUBITAK (Scientific and Technical Reaserach Council of Turkey), and Professor Suha Sevuk, President of METU (Middle East Technical University in Ankara, Turkey), and urged them to prepare a joint proposal. These efforts took more than a year. In September 1992, the proposals from institutions in seven countries were examined at an Executive Committee meeting in Rome, and it was decided, with a majority vote, that the joint proposal of METU and TUBITAK, could provide the best financial and administrative support to the Centre. Since January 1993, the Centre has restarted its activities in its new home, the Middle East Technical University in Ankara, Turkey, under the joint auspices of these institutions, METU and TUBITAK. |
| | |
| --- | --- |
| The Statutes and the By-Laws of the Centre were revised, partly in response to the move to Turkey. At the meetings of the General Assembly and of the Scientific Council in Brighton, England in August, 1994, Professor Faruk Arinç, a faculty member at the Department of Mechanical Engineering of METU, was elected as the new Secretary General of the Centre. He was re-elected to this office at the succeeding Scientific Council meetings held in every four years during International Heat Tranfer Conferences (IHTC). | |
The new Secretariat working under the new rules with renewed enthusiasm and support of the Executive Committee as well as the two standing sponsors of the Centre in Turkey, organized highly successful meetings since 1994, and sponsored many others elsewhere. The venues of the meetings in Turkey were chosen to be five-star hotels on the Aegean or Mediterranean coast, providing excellent settings for scientific as well as social gathering of all attendees and spouses. ICHMT also organizes meetings in countries other than Turkey, chaired by prominent researchers in the field.

The traditional activity of ICHMT is organization the International Symposia and Seminars. These meetings have been always met with increasing interest by the scientific, technical and industrial communities. The general scope of the meetings has always been designed with the aim of active promotion of interesting scientific work and achievements at high technical levels.
The Centre has published over 80 Proceedings on various specific aspects of heat and mass transfer. Each proceeding is related to a meeting of the Centre. International participation in the meetings is always a major aim. The total number of participants in the meetings of ICHMT since 1968 has been over 5000, coming from over 60 different countries.
| | |
| --- | --- |
| | In order to promote the international activities of the Centre and reach as many scientists and researchers as possible in the field, the Centre signed a publication agreement with the publisher, Begell House, Inc., in 1994, since when Begell House has been printing and distributing the scientific work of ICHMT. In addition, the Proceedings of the Biotransport-98, Plasma-99, Turbine-2000 and Vim-2001 symposia were published in the Annals of New York Academy of Sciences (NYAS) in accordance with a separate agreement signed between the Centre and the Academy. In June 2006, the agreement between ICHMT and Begell House, Inc. was renewed and expanded to include the creation of an ICHMT Digital Library Online (http://dl.begellhouse.com/references/1bb331655c289a0a.html). |

As emphasized in our Mission Statement, the Centre aims not only to provide attractive meeting occasions for all scientists active in the field, but also to foster international exchange of science and engineering in all branches of heat and mass transfer through the promotion of research, education, and the exchange of personnel. With this purpose of existence in mind, the Centre aims to be a reliable and state-of-the-art source of information in all its publications, and to create the means for generating international synergy, enthusiasm, and motivation among the scientists and researchers that will lead to new ideas, procedures, products, and standards to improve productivity and efficiency and to promote living in a cleaner environment.
The membership in the Centre is open to all non-governmental, non-profit, national and international organizations working in the field of heat and mass transfer. The number of member institutions of the Centre is now over 40 from 30 different countries.
One activity initiated by the Secretariat of the Centre in 1994 was the creation of the ICHMT Home Page on the Internet. This site is constantly updated, and has now grown to a significant size. It is being accessed by scientists all over the world.